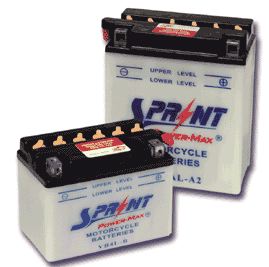 Charging method for both 6v and 12v conventional motorcycle batteries.
Conventional/lead acid (also know as wet or flooded cell) batteries normally have opaque, semi see through sides and a row of removable plastic stoppers in the top (usually yellow or red in colour, there will be 6 stoppers in the top of a 12 volt battery and 3 stoppers in the top of a 6 volt battery).
The batteries usually start with the code YB, CB, GB, DB, EB (e.g. YB9-B, CB9-B etc), 12N or 6N (e.g. 12N24-3 or 6N6-3B).
1) The 1st step for lead acid motorcycle battery charging is to remove the packing & yellow stoppers from the top of the battery. Remove the cap from the end of the breather nipple located at the top on the side of the battery.
Continue reading →